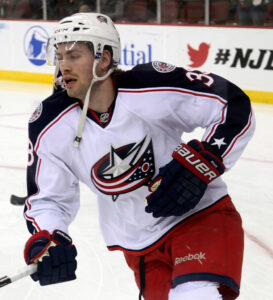 Columbus Blue Jackets center and captain Boone Jenner of Dorchester, Ontario registered his second career National Hockey League hat trick on Saturday. He accomplished the feat in a 5-3 Blue Jackets win over the New York Rangers.
Jenner initially tied the game at one from Johnny Gaudreau and Kirill Marchenko at 9:36 of the first period. He then put the Blue Jackets up 2-1 with a power-play goal from Gaudreau and Ivan Provorov at 17:45 of the first period. Jenner then put Columbus up 3-1 with a goal from defenseman Jake Bean of Calgary, Alberta at 12:30 of the second period.
Jenner was one of two Canadians to score for the Blue Jackets. He was joined by Justin Danforth of Oshawa, Ontario.
Jenner's previous hat trick came on March 12, 2019. It came in a 7-4 Blue Jackets win over the Boston Bruins.
In 2023-24, Jenner has three goals and one assist for four points. He is a +1 with one power-play point, seven shots on goal, 19 faceoff wins, four blocked shots, four hits, and one takeaway.
The Blue Jackets improved to a record of one win and one loss for two points. They lost their first game of the 2023-24 season to the Philadelphia Flyers by a score of 4-2 on Thursday.