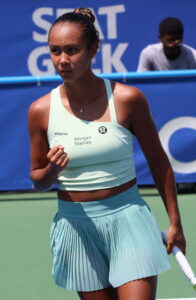 Leylah Annie Fernandez of Montreal, Quebec won her third career WTA event on Sunday. The 21-year-old defeated Katerina Siniakova of the Czech Republic 3-6, 6-4, 6-4 in the championship final of the 2023 Hong Kong Open. The match took two hours and 49 minutes to complete.
Fernandez was the healthier player in the final. Siniakova was dealing with a leg injury according to wtatennis.com, which forced her to call a medical timeout.
In the third set of the women's final, Fernandez won 65% of her second serve points. That was only compared to 44.8% for Siniakova.
This was a huge victory for Fernandez. She has reached three women's doubles finals in 2023, but this was her first singles final and came through with the win.
Fernandez previously won the Monterrey Open in Mexico twice. The first time came in March of 2021, where she beat Viktorija Golubic of Switzerland in the final, 6-1, 6-4. The second came in March of 2022, where she beat Camila Osorio of Colombia in the final, 6-7, 6-4, 7-6. All three titles were at the WTA 250 level.
This was the first time a Canadian tennis player won a singles tournament in 2023. Last year, Felix Auger-Aliassime of Montreal, Quebec won four times on the ATP Tour, but he has not won on the ATP Tour in 2023 as of yet.