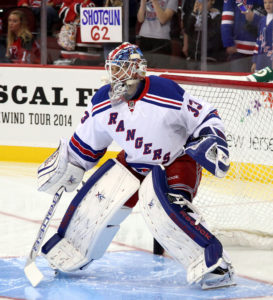 According to William Douglas of nhl.com on Saturday, Calgary Flames goaltender Cam Talbot of Caledonia, Ontario was extremely active this past week in saving the University of Alabama-Huntsville hockey program in the National Collegiate Athletic Association. Talbot helped set up a GoFundMe account to help the hockey program and was able to raise $539, 325.
A major reason why the University of Alabama-Huntsville was having to drop their hockey program was connected to budgetary concerns surrounding coronavirus. Many universities across North America are expecting a reduction in enrollment of students this year because of the pandemic. There are currently 18,308 cases of coronavirus in the state of Alabama and 646 deaths.
The University of Alabama-Huntsville initially announced that they needed $750,000 to save the Chargers. Then former alumni Sheldon Wolitski and Taso Sofikitis each stepped up with donations of $125,000 each. Wolitski is a native of Calgary, Alberta, and Sofikitis is a native of Vancouver, British Columbia. Wolitski and Sofikitis were teammates on the Chargers during the 1995-96 season. It should be also mentioned that the University of Alabama-Huntsville hockey program is the only NCAA Division I hockey program in the southeast portion of the United States.
Talbot played three seasons for the Chargers from 2007 to 2010. During that time he had a record of 15 wins, 44 regulation losses, and six losses in extra time, with a goals against average of 3.03 and two shutouts. In 2010, Talbot was signed by the New York Rangers. In the last eight seasons, Talbot has played in the NHL with the Rangers, Edmonton Oilers, Philadelphia Flyers, and Calgary Flames.