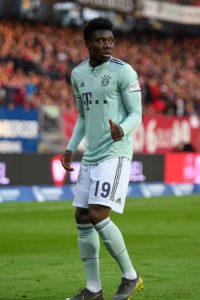 According to transfermarkt.us,  Canadian soccer star Alphonso Davies of Edmonton, Alberta scored his third Bundesliga goal of the 2019-20 German soccer season on Saturday. Davies scored Bayern Munich's fifth goal in a 5-0 triumph over Dusseldorf.
Davies, who has moved into the left-back position for Bayern Munich very comfortably this season, scored in the 52nd minute from Leon Goretzka of Bochum, Germany to put Bayern Munich up by five goals. After Bayern Munich went up 1-0 on an own goal by Dusseldorf, three Bayern Munich players scored to make the game a rout. Robert Lewandowski of Warszawa, Poland scored twice and Benjamin Pavard of Maubeuge, France also scored. Lewandowski leads the Bundesliga with 29 goals in 27 games.
A major reason why Davies scored for Bayern Munich against Dusseldorf was because of his outstanding footwork near the net. He previously scored for Bayern Munich this season in a 6-1 win over FSV Mainz 05 on August 31 and in a 5-2 win over Eintracht Frankfurt on May 23.
Bayern Munich has a comfortable 10-point lead over second-place Borussia Dortmund in the Bundesliga standings. Bayern Munich currently has a record of 21 wins, four losses and four draws for 67 points. Their next opponent will be Bayer Leverkusen on June 6. Bayer Leverkusen is currently third in the Bundesliga with a record of 17 wins, seven losses, and five draws for 56 points.