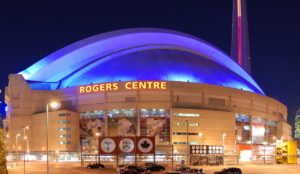 According to Shi Davidi of Rogers Sportsnet on Monday, Rogers Centre, which is home to the Toronto Blue Jays of Major League Baseball, will be used as a major warehouse to store food. The charitable organization, Food Banks Canada, plans to use the stadium to store 8 million meals that can be distributed across Canada. There is a major need for the food bank in Canada at this time because the unemployment rate in Canada is a staggering 13%.
There are currently 91,647 cases of coronavirus in Canada and 7,325 deaths. The two hardest hit provinces are Quebec and Ontario. There are 51, 354 cases in Quebec, and 4661 deaths. In Ontario, there are 28, 263 cases, and 2276 deaths.
Rogers Centre is not being used at the moment and will not be used for the foreseeable future. If the Blue Jays have their 2020 MLB regular season, they will expect to play their games in the United States. There is no doubt that playing baseball in Canada is significantly healthier and safer for players than the United States, however, one needs to realize the Canadian border is closed for people to enter and at this time Canadians definitely do not want Americans coming into the country. At this time there are 1,842,883 cases of coronavirus in the United States and 106,323 deaths.
With all of the protesting currently taking place throughout North America, there is minimal social distancing. Unfortunately, the coronavirus statistics will probably increase as a result.