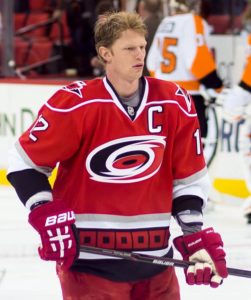 Canadian Olympic gold medalist Eric Staal of Thunder Bay, Ontario was traded from the Buffalo Sabres to the Montreal Canadiens on Friday according to nhl.com. In return, the Sabres received the third and fifth round draft picks in the 2021 National Hockey League Entry Draft.
Staal, who won a gold medal for Canada at the 2010 Olympic Winter Games in Vancouver, will now be joining his fifth National Hockey League franchise. He has previously played with the Carolina Hurricanes, New York Rangers and Minnesota Wild in addition to the Sabres.
It has been a definite struggle for Staal this season with the Sabres. In 32 games, he has had only three goals and seven assists for 10 points and has been terrible defensively as he has been a -20. Staal has also had eight penalty minutes, three power-play points, 59 shots on goal, 169 faceoff wins, eight blocked shots, 14 hits, 10 takeaways and 11 giveaways.
Staal won a Stanley Cup with the Hurricanes in 2006. In the 2006 Stanley Cup Playoffs, he led the NHL with 19 playoff assists, 28 playoff points, seven playoff power-play goals, and 87 playoff shots on goal.
The Canadiens meanwhile have not played since March because of issues pertaining to coronavirus. Despite the long layoff, they are still in a playoff spot, and lead the Calgary Flames by two points.