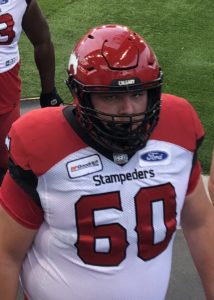 There were five Canadians announced to the 2019 Canadian Football League All-Star Team on Wednesday. Three of the players were Canadian born, while the other two were Canadian raised.
The three Canadian native players were offensive linemen. They were Calgary Stampeders guard Shane Bergman of Teetervile, Ontario, Saskatchewan Roughriders centre Dan Clark of Regina, Saskatchewan and Hamilton Tiger-Cats offensive tackle Chris Van Zeyl of Fonthill, Ontario. The other two Canadians honoured were Montreal Alouettes linebacker Henoc Muamba, who was born in Zaire and raised in Mississauga, Ontario and Tiger-Cats safety Tunde Adeleke, who was born in Nigeria, and raised in Ottawa, Ontario.
Bergman is 6'7″, and 345 pounds. A two-time Grey Cup champion from 2014 and 2018, he was named to his first CFL All-Star team. A product of the University of Western Ontario, Bergman helped a Stampeders squad win 12 regular season games and finish in second place in the Western Division.
Like Bergman, Clark was named to his first CFL All-Star team. At 6'4″, 330 pounds, Clark has played with the Roughriders since 2009. He played his junior football with the Regina Thunder of the Canadian Junior Football League.
Van Zeyl has had quite the season. In addition to being named a CFL All-Star, he was named the CFL's most outstanding offensive lineman in 2019. Van Zeyl, who is a product of McMaster University, was a CFL All-Star with the Toronto Argonauts in 2013 and 2017.
Muamba attended St. Francis Xavier University. This is the second time he was named a CFL All-Star as he was previously recognized with the Winnipeg Blue Bombers in 2013. This past season with the Alouettes, Muamba was named the most outstanding Canadian. In 17 games, he had 93 tackles, two forced fumbles and one sack.
Adeleke attended Carleton University. A first-time CFL All-Star, he had 52 tackles and two interceptions in 2019.