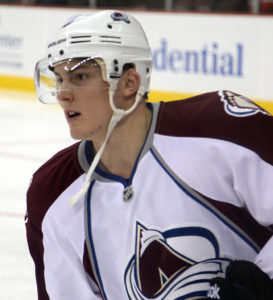 The Edmonton Oilers were in need of a defenseman heading into next year's National Hockey League regular season. Not just because Oilers captain Connor McDavid of Richmond Hill, Ontario said so, but because Oscar Klefbom might be out long term with a shoulder injury.
On Saturday, Oilers General Manager Ken Holland found a blueliner who will help Edmonton for the short term. The Oilers organization was able to sign defenseman Tyson Barrie of Victoria, British Columbia to a one year contract worth $3.75 million according to NBC Sports. 
The Oilers become Barrie's third National Hockey League team. In addition to one year with the Toronto Maple Leafs, Barrie played eight seasons with the Colorado Avalanche.
Last season, Barrie had five goals and 34 assists for 39 points in 70 games. He was a -7 with 16 penalty minutes, 12 power play points, 169 shots on goal, 76 blocked shots, 47 hits, 16 takeaways and 62 giveaways.
There is no doubt that more was expected this past season of Barrie in Toronto, when they acquired him from the Avalanche in a blockbuster deal involving Nazem Kadri of London, Ontario on July 1, 2019. As a result, the Maple Leafs decided to give a significant contract to T.J. Brodie of Chatham, Ontario instead. Brodie signed a four year deal worth $20 million after playing the last decade with the Calgary Flames.
There are two disconcerting statistics in regards to Barrie however. The first is the fact he is a career -66, and the second is that he has 147 more giveaways than takeaways.