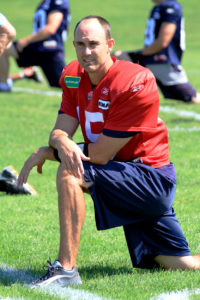 One of the greatest quarterbacks in Canadian Football League history retired at the age of 39 on Wednesday. Ricky Ray, who has spent 16 seasons with the Edmonton Eskimos and Toronto Argonauts, decided to call it a career, citing a neck injury as one of the reasons why.
There is no doubt that Ray will be in the Canadian Football Hall of Fame in Hamilton, Ontario, for his marvelous career. Ray is fourth all-time in passing yards with 60736. He is only behind Anthony Calvillo, Damon Allen and Henry Burris.
Ray also ranks second behind Doug Flutie in passing yards per game (269.8, compared to Flutie at 306.3 yards per game). Ray is also third all-time in pass completions (4976). He is behind Calvillo and Allen.
In 2005 with the Eskimos, Ray completed 479 passes in one season. At the time that was a CFL record, but has since been broken by Burris in 2015 when he had 481 pass completions with the Ottawa Redblacks.
Ray's 324 touchdown passes are also fifth all-time. He is only behind Calvillo, Allen, Burris and Ron Lancaster.
From an awards perspective, it may come as a surprise that Ray was never the Canadian Football League's most outstanding player. A four-time CFL all-star, Ray was the 2005 Grey Cup most valuable player while with the Eskimos. He also won three other Grey Cups–in 2003 with the Eskimos, and in 2012 and 2017 with the Toronto Argonauts. In both Grey Cup titles with the Argonauts, Toronto beat the Calgary Stampeders.