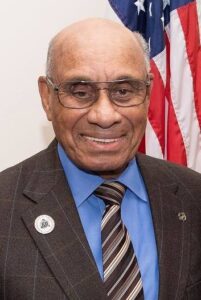 According to Rogers Sportsnet on Tuesday, the Boston Bruins will retire the number 22 in honour of former right winger Willie O'Ree of Fredericton, New Brunswick. O'Ree played for the Bruins during the 1957-58 season and again during the 1960-61 season. He has been recognized as the first black player to play in the National Hockey League.
O'Ree played 45 games for the Bruins and had four goals and 10 assists for 14 points. He was a -18 with 26 penalty minutes, two game-winning goals, and 62 shots on goal. O'Ree's game-winning goals came in a 3-2 Bruins win over the Montreal Canadiens on January 1, 1961, and in a 4-2 Bruins win over the Detroit Red Wings on January 19, 1961.
Also in O'Ree's two-year NHL career, he had one multi-point game. O'Ree had two assists in a 4-2 Bruins win over the Chicago Black Hawks.
O'Ree becomes the 12th Bruins player in franchise history to have his number retired. All prior 11 Bruins who have had their number retired are Canadian. They are Ed Shore of Fort Qu'Appelle, Saskatchewan (two), Lionel Hitchman of Toronto, Ontario (three), Bobby Orr of Parry Sound, Ontario (four), Aubrey Clapper of Newmarket, Ontario (five), Phil Esposito of Sault. Ste. Marie, Ontario (seven), Cam Neely of Comox, British Columbia (eight), John Bucyk of Edmonton, Alberta (nine), Milt Schmidt of Kitchener, Ontario (15), Rick Middleton of Toronto, Ontario (16), Terry O'Reilly of Niagara Falls, Ontario (24), and Ray Bourque of Montreal, Quebec (77).
The number retirement ceremony will take place on February 18 at Toronto Dominion Garden in Boston. That night the Bruins will host the New Jersey Devils.