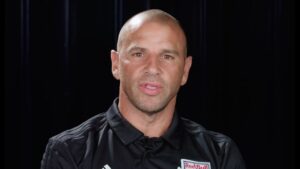 According to the Canadian Press on Wednesday, Toronto FC has hired Chris Armas as their new head coach. The 48-year-old native of New York becomes the 10th head coach of Toronto FC since the team joined Major League Soccer in 2007.
Armas takes over Grey Vanney of South Boston, Virginia, who surprisingly announced his resignation with Toronto FC on December 1, 2020. He later came to terms with the LA Galaxy. Vanney had been with Toronto FC since 2014, and is best known as being the head coach of Toronto FC when they won the MLS Cup in 2017. Toronto FC defeated the Seattle Sounders 2-0 at Bank of Montreal Field in the MLS Cup Final on December 9, 2017.
Armas previously managed the New York Red Bulls for three seasons in Major League Soccer from 2018 to 2020. In that time, the Red Bulls had a record of 33 wins, 27 losses, and 11 draws. Armas also coached the Adelphi University women's team from 2011 to 2014, and was an assistant coach in the MLS for five seasons. He was with the Chicago Fire in 2008, and with the Red Bulls for four years from 2015 to 2018.
As a player, Armas played 12 seasons in the MLS as a midfielder. He was with the LA Galaxy in 1996 and 1997, and then with the Fire from 1998 to 2007. In 264 games, he had 12 goals.
This past season, Toronto FC finished in second place in the Eastern Conference with 44 points. They were three points back of the Philadelphia Union. However on November 24 in the first round of the MLS Cup Playoffs, Toronto FC was upset 1-0 by Nashville SC.