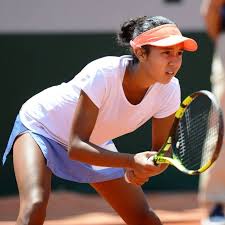 Leylah Annie Fernandez of Montreal, Quebec, the 2021 United States Open finalist, is in the quarterfinals of the 2023 Guadalajara Open in Mexico. This is the third quarterfinal that Fernandez will have played in 2023. She previously reached the final eight in Auckland in January, and Cleveland in August.
Fernandez, the 74th ranked player in the world, delivered an upset in the third round on Wednesday. She beat Emma Navarro of the United States, the 49th ranked player in the world, 6-2, 6-3. Navarro only had one break point opportunity in the entire match, and did not capitalize. Fernandez meanwhile broke Navarro thrice.
Next up for Fernandez in Guadalajara is Sofia Kenin of the United States, the 2020 Australian Open champion. Kenin won their only prior meeting, 6-4, 6-3 in the second round of the 2020 United States Open. The match between Fernandez and Kenin will be the first of four quarterfinals to take place on Thursday. There is a guaranteed time of 1pm Mountain Time as it is the first match of the day.
The other three quarterfinal matchup have the third seed Caroline Garcia of France against the 10th seed Victoria Azarenka of Belarus, the second seed Maria Sakkari of Greece against Emiliana Arango of Colombia, and Caroline Dolehide of the United States against Martina Trevisan of Italy. Garcia, Azarenka, Sakkari and Trevisan have also had deep runs at a major in the past. Garcia reached the semifinals of the 2022 United States Open. Azarenka won the 2012 and 2013 United States Open. Sakkari reached the semifinals of the 2021 French Open and United States Open. Trevisan reached the semifinals of the 2022 French Open.