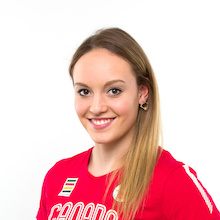 Team Canada came away with two medals in the team competitions at the Artistic Swimming World Series in Tokyo, Japan this past weekend. The silver medal in the team technical event and the bronze medal in the team free event is significant because Tokyo will be the host city of the 2020 Olympic Games.
In the team technical on Saturday, Team Canada had a second place score of 87.5982 points. Japan won the gold medal with 91.3871 points. France won the bronze medal with 85.9191 points. In the team free event on Sunday, Team Canada had a third place score of 88.2 points. Japan won the gold medal with 93.0333 points and Spain won the silver medal with 89.2667 points.
This was the fourth of nine World Series events in artistic swimming in 2019. Quebec City, Quebec is the host city of the seventh stop of the World Series from May 30 to June 1. However before the world's best artistic swimmers come to Canada, they will make stops in Beijing, China from May 4-6 and in Greensboro, North Carolina from May 24-26.
The medals should give Canada confidence as they prepare for the 2020 Olympic Games in Tokyo. It should be noted that even though Canada has won eight medals in the history of the Olympic Games in artistic swimming (formerly called synchronized swimming), they have not won a medal since the 2000 Olympic Games in Sydney.