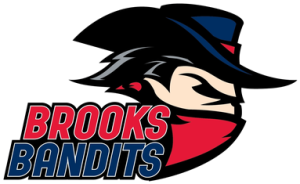 The Brooks Bandits have won their fourth Canadian Junior Hockey League championship in franchise history. Now known as the Centennial Cup, the Bandits beat the Battlefords North Stars 4-0 in the championship final from Stride Place in Portage la Prairie, Manitoba on Sunday.
Ethan Barwick of St. Albert, Alberta made 30 saves for the shutout. He made five saves in the first period, 13 saves in the second period, and 12 saves in the third period.
From an offensive standpoint, two Bandits players had multi-point games. Hudson Malinoski of Saskatoon, Saskatchewan scored twice and Hunter Wallace of Oak Lake, Manitoba had one goal and one assist for two points. The other Bandit goal scorer was Heath Armstrong of Calgary, Alberta.
The Bandits were the only team at the 2023 Centennial Cup to go through the tournament undefeated. In Group A action, they had a perfect record of four wins and zero losses. They defeated the Yarmouth Mariners 7-2 on May 11, the Ottawa Junior Senators 5-1 on May 13, the Timmins Rock 9-0 on May 15, and the Cobras de Terrebonne 6-1 on May 16. The Bandits then beat the Junior Senators 3-0 on Saturday in the semifinals.
Brooks qualified for the Centennial Cup by winning the Alberta Junior Hockey League championship. In the Inter Pipeline Cup Championship, Brooks beat the Spruce Grove Saints in five games.
Brooks previously won the Canadian Junior Hockey League championship in 2013, 2019 and 2022. In 2013, the championship was known as the Royal Bank Cup and in 2019, the championship was known as the National Junior A Championship.