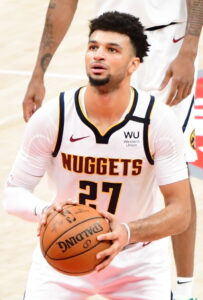 Denver Nuggets guard Jamal Murray of Kitchener, Ontario is quite simply having a fabulous Western Conference Finals in the 2023 NBA Playoffs. On Saturday night at the crypto.com Arena in Los Angeles, California, Murray had a remarkable first half of basketball as he scored 30 points as the Nuggets beat the Los Angeles Lakers 119-108 to take a three games to none series lead.
Murray finished the game with a team high 37 points. He added seven rebounds and six assists. In the three Western Conference Final games so far, Murray has 105 points, 22 rebounds, 16 assists, nine steals, one block and is a +39.
This was the second straight game Murray scored 37 points. He achieved that mark in game two of the series, a 108-103 Denver win on Thursday.
In the 2023 NBA Playoffs, Murray is averaging 27.9 points per game, 6.2 assists per game, 5.6 rebounds per game, and 1.6 steals per game. He has a field goal percentage of .475, three-point percentage of .412 and a free throw percentage of .919.
The Nuggets can sweep the Lakers on Monday night. In the Eastern Conference, the Miami Heat have a two games to none lead over the Boston Celtics. Ironically, the NBA's Heat and NHL's Florida Panthers were both the eighth seeds heading into the playoffs, and they are both six wins away from a championship. The Panthers lead the Carolina Hurricanes two games to none in the Eastern Conference Final of the Stanley Cup Playoffs.