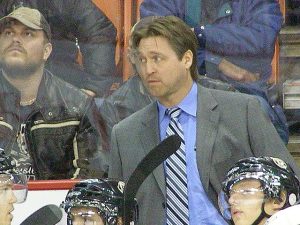 The Quebec Remparts have won the 2023 Quebec Major Junior Hockey League playoffs. On Sunday, they defeated the Halifax Mooseheads 5-4 in game six of the championship final to win the Gilles-Courteau Trophy. With the win, the Remparts will represent the QMJHL in the 2023 Memorial Cup in Kamloops, British Columbia.
For many years the QMJHL championship trophy was known as the President's Cup. However, the trophy was renamed on February 21 after Gilles Courteau of Trois-Rivieres, Quebec, who retired as the QMJHL President on December 16. Corteau was the QMJHL President from 1986 to 2022. During his time as QMJHL President, he was recognized for Atlantic Canada expansion.
This was the sixth time the Remparts have won the QMJHL Championship. They previously won in 1970, 1971, 1973, 1974, and 1976. Twice the Remparts have won the Memorial Cup. They first won in 1971, and then won again in 2006. When the Remparts won the 2006 Memorial Cup, they lost the President's Cup in six games to the Moncton Wildcats.
During the 2022-23 QMJHL regular season, the Remparts had the best record with 109 points. Seeded first in the playoffs, they defeated the Charlottetown Islanders in four games in the Eastern Conference Quarterfinals, the Rimouski Oceanic in five games in the Eastern Conference Semifinals, and the Gatineau Olympiques in a four game sweep in the Gilles-Corteau Trophy Championship semifinals.
The most recognizable member of the Remparts is head coach and general manager Patrick Roy of Quebec City. One of the best goaltenders in hockey history, Roy was inducted into the Hockey Hall of Fame in 2006.