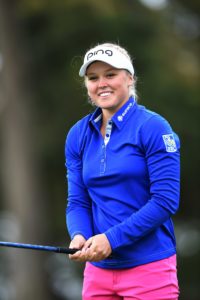 Brooke Henderson of Smiths Falls, Ontario leads after the second round of the 2019 Meijer Classic in Grand Rapids, Michigan.On Friday in round two, Henderson shot a score of 64 for the second consecutive day.
Henderson, who is at -16, has shot back-to-back rounds of eight under par. The only other golfer who is in contention at the moment is Brittany Altomare of the United States, who is in second place at -13.
In round one on Thursday, Henderson recorded her seventh career hole in one on the 15th hole. The ace moved her from two under par to four under par at the time. Starting on the back nine, Henderson then had birdies on the 18th, 1st, third and eighth holes.
Then on Friday, Henderson had nine birdies and one bogey. She had birdies on the third, fourth, eighth, ninth, 13th, 14th, 15th, 17th and 18th holes to go along with a bogey on the seventh hole.
Henderson has won the Meijer Classic before. Two years ago she shot a score of -17 to beat Americans Michelle Wie and Lexi Thompson by two strokes. Henderson is also looking to win her second LPGA Tour event of 2019. In April, she won her second Lotte Championship in Hawaii.