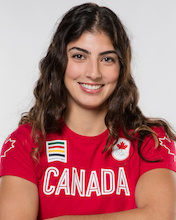 Team Canada has qualified for the 2020 Olympic Games in Tokyo in women's rugby sevens. Canada qualified by finishing among the top four teams from the 2018-19 World Rugby Women's Sevens Series. They were joined by New Zealand, the United States and Australia. New Zealand led the standings with 110 points. They were followed by the United States at 100 points, Canada at 94 points and Australia at 86 points.
In the final World Rugby Women's Sevens Series event of the year in Biarritz, France, Canada finished in third place by beating Spain 19-14. The United States won the gold medal as they beat New Zealand 26-10.
In Pool B action in Biarritz, Canada finished in second place behind Australia at two wins and one loss. Their first win came in a tight 22-19 victory over Spain on Saturday. Canadian players who notched a try were Ghislaine Landry of Toronto, Ontario, Brittany Benn of Napanee, Ontario, Bianca Farella of Montreal, Quebec and Breanne Nicholas of Blenheim, Ontario. Team Canada then clinched their spot at the 2020 Olympic Games with a 27-10 win over Ireland. Kaili Lukan of Barrie, Ontario and Farella led Canada with two tries each. Canada then finished Pool B action with a 27-14 loss to Australia.
Then on Sunday, Canada beat France 12-5 in the quarterfinals on tries by Caroline Crossley of Victoria, British Columbia and Farella. After losing 21-12 to New Zealand in the semifinals, Canada beat Spain 19-14 in the bronze medal game on tries by Farella, Benn and Charity Williams of Toronto, Ontario.