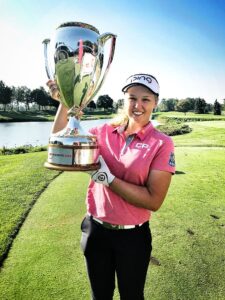 Brooke Henderson of Smiths Falls, Ontario is at -6 and only two strokes back of leader A Lim Kim of South Korea at the 2023 Chevron Championship in the Woodlands, Texas after the second round on Saturday. The tournament is very prestigious because it is the first major of the season. The tournament previously took place in Rancho Mirage, California before moving to Texas this year.
Henderson was at -5 after 17 holes on Friday. She needed to return to the 18th hole on Saturday morning. When Henderson left the 18th hole on Friday, she was in some trouble as her golf ball was nestled close to the grandstand. She could have finished her round on Friday, but elected to finish her round on Saturday. The decision paid off big time as Henderson, the two-time major champion (from 2016 Women's PGA Championship and the 2022 Evian Championship) came away with a birdie to improve to six under par.
In round two, Henderson had seven birdies and two bogeys for a score of -5. She birdied the first, second, eighth, ninth, 13th, 14th, and 18th holes, and bogeyed the 12th and 15th holes. In the first round on Thursday, Henderson had four birdies and three bogeys for a score of -1. She birdied the fourth, eighth, 13th, and 18th holes, and bogeyed the fifth, seventh, and 10th holes.
Kim won the 2020 United States Women's Open. She has a one stroke lead over Americans Megan Khang and Lilia Vu. Henderson is in a tie for fourth with 2021 ANA Inspiration champion Patty Tavatanakit of Thailand and 2021 Women's PGA Championship winner Nelly Korda of the United States at -6. The trio at -5 are Americans Angel Yin and Allisen Corpuz and Switzerland's Albane Valenzuela.