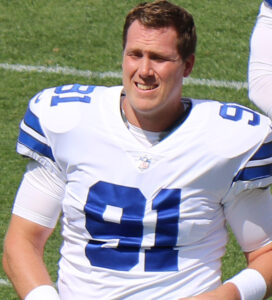 The 2020 National Football League season began play on Thursday when the Kansas City Chiefs beat the Houston Texans 34-20 at Arrowhead Stadium in Kansas City, Missouri. As week one begins for the other 30 NFL teams on Sunday and Monday, there will be 10 Canadians on NFL rosters. Let's take a look at who they are.
Anthony Auclair–The tight end from Notre-Dame-des-Pins, Quebec is 27 years old and has been with the Tampa Bay Buccaneers since 2017. Now Auclair will be catching balls from Tom Brady instead of Jameis Winston. In 2019, Auclair had one catch for 11 yards in eight games.
Chase Claypool–The wide receiver from Abbotsford, British Columbia is in his rookie season with the Pittsburgh Steelers. He was the Steelers' number two pick, 49th overall, from the University of Notre Dame.
Christian Covington–The 26-year-old defensive tackle was traded from the Denver Broncos to the Cincinnati Bengals for linebacker Austin Calitro on September 4, 2020. Last year with the Dallas Cowboys, Covington, a native of Vancouver, British Columbia, played in all 16 games and had 28 combined tackles (20 solo tackles and eight assisted tackles), four tackles for a loss, three quarterback hits, one sack, and one pass deflection. Covington initially signed a one year contract worth $1.75 million with the Broncos, but due to the offseason trade, did not have a chance to play for Denver.
Tyrone Crawford–The 30-year-old defensive end from Windsor, Ontario, is entering his eighth season with the Cowboys. Last year he had three combined tackles (two assisted tackles and one solo tackle), one tackle for a loss, two quarterback hits, and one sack. Crawford's sack came in a 31-21 Dallas win over Washington win on September 15.
Neville Gallimore–The 23-year-old defensive tackle from Ottawa, Ontario, was the third round draft pick, 82nd overall, by the Cowboys in the 2020 NFL Draft. He played the last four years with the University of Oklahoma, and was also selected by the Saskatchewan Roughriders in the eighth round of the 2020 Canadian Football League Draft.
N'Keal Harry–A wide receiver from Toronto, Ontario, Harry, played his rookie season in the NFL with the New England Patriots in 2019. The 22-year-old had 12 catches for 105 yards and two touchdowns in 2019. Harry's touchdowns came in a 13-9 Patriots win over the Cowboys on November 24, and in a 34-13 Patriots win over the Cincinnati Bengals on December 15.
L.P. Ladouceur–A veteran long snapper, Ladouceur is 39 years of age, and holds the Cowboys record for consecutive games played and games played with 236, which was set on December 22, 2019. Ladouceur is a native of Montreal, Quebec, and has 21 combined tackles (16 solo tackles and five assisted tackles) alongside one fumble recovery. In 2014, he was selected to the Pro Bowl.
Nathan Shepherd–A defensive end from Ajax, Ontario, Shepherd is 27 years of age. Over the last two seasons, he has been with the New York Jets. In 2019, Shepherd had 11 combined tackles (six solo tackles and five assisted tackles), two sacks, five tackles for a loss and six quarterback hits. Shepherd's sacks came in Jets wins. The first was on November 10, 2019 in a 34-27 win over the New York Giants, and the second was on November 17, 2019 in a 34-17 win over Washington.
Brent Urban–A defensive end from Mississauga, Ontario, Urban is 6'7″, 300 pounds. On March 26, 2020, Urban re-signed with the Chicago Bears. He joined them last year after being released by the Tennessee Titans. In 13 games in 2019 (nine with the Bears and four with the Titans), Urban had 16 combined tackles (10 solo tackles and six assisted tackles), two pass deflections, one quarterback hit, and one tackle for a loss. Prior to 2019, Urban spent five seasons with the Baltimore Ravens from 2014 to 2018.
Luke Willson–The native of Windsor, Ontario has played six seasons with the Seattle Seahawks (2013 to 2017) and again in 2019. The veteran tight end was also with the Detroit Lions in 2018. A Super Bowl champion in his rookie season of 2013, Willson had eight catches for 79 yards with Seattle a year ago. He has 110 catches for 1295 yards and 11 touchdowns over seven NFL seasons.