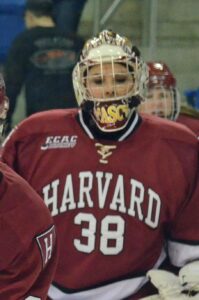 Team Canada is now in the semifinals of the 2021 Women's World Hockey Championship in Calgary, Alberta. On Saturday, Canada defeated Switzerland 7-0 in the third of four quarterfinal games at the Markin MacPhail Centre.
It was a rather simple game for Canadian goaltender Emerance Maschmeyer of Bruderheim, Alberta. Maschmeyer only had to make three saves, as she had two saves in the first period and one save in the third period. The fact that Canada gave top zero German shots on goal in the second period, said a lot about the incredible Canadian defense.
Canadian Olympic gold medalists Natalie Spooner of Scarborough, Ontario and Melodie Daoust of Valleyfield, Quebec led Team Canada in scoring with three points. Spooner had two goals and one assist, while Daoust had one goal and two assists. Three other Canadians had a multi-point game. Canadian Olympic gold medalist Marie-Philip Poulin of Beauceville, Quebec, Sarah Fillier of Georgetown, Ontario, and Ashton Bell of Deloraine, Manitoba each had one goal and one assist for two points. The other Canadian goal scorer was Canadian Olympic gold medalist Brianne Jenner of Oakville, Ontario.
Poulin won a gold medal at the 2010 Olympic Winter Games in Vancouver, and then teamed up with Spooner, Daoust, and Jenner to win a gold medal at the 2014 Olympic Winter Games in Sochi. Canada will play Switzerland in one of two semifinals on Monday. Switzerland beat Russia 3-2 in overtime. The other semifinal has Finland versus the United States.