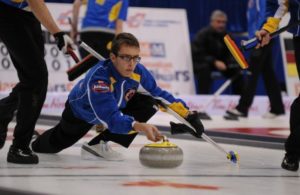 Edmonton's Brendan Bottcher has won his first career Canadian men's curling championship. On Sunday from the Markin MacPhail Centre in Calgary, Alberta, Bottcher's Team Alberta defeated the second-ranked wildcard team skipped by Kevin Koe of Calgary by a score of 4-2, in the final of the 2021 Tim Hortons Brier.
In the championship game, Koe made a key mistake in the seventh end when he flashed in a takeout attempt. The error opened the door for Bottcher, who scored three points. Then in the tenth end, Bottcher put significant pressure on Koe, to the point where Koe, the five-time Brier champion, did not have a shot in his final attempt, and conceded the two-point victory.
This was the fourth straight year that Bottcher has been to the Brier final. He previously lost the 2019 Brier Final to Koe, as well as the 2018 and 2020 Brier Finals to Canadian Olympic gold medalist Brad Gushue of St. Johns, Newfoundland. Gushue won the gold medal for Canada at the 2006 Olympic Winter Games in Turin. 
However, Bottcher's most impressive shot on Sunday came in the semifinal. There he beat Saskatchewan's Matt Dunstone for an incredible long angle raise takeout for two points en route to a 6-5 victory. Bottcher will now represent Team Canada at the 2021 World Men's Curling Championship in Calgary from April 2-11.