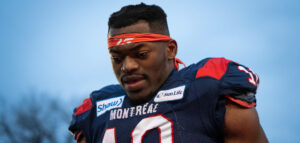 The Toronto Argonauts signed linebacker Henoc Muamba on Tuesday according to Chris OLeary of cfl.ca. Even though Muamba is a native of Kinshasa, Zaire, Muamba is considered by the Canadian Football League as Canadian because he grew up in Mississauga, Ontario, and attended St. Francis Xavier University in Antigonish, Nova Scotia, becoming the first player from the X-Men to be selected first overall in the Canadian Football League Draft (2011 by the Winnipeg Blue Bombers).
Muamba is entering his 10th CFL season. He has previously played three seasons with the Blue Bombers from 2011 to 2013, the Montreal Alouettes in 2015, the Saskatchewan Roughriders from 2016 to 2017, and a return to the Alouettes for three seasons from 2018 to 2020.
A two-time CFL All-Star, (the first time with the Blue Bombers in 2013, and the second time with the Alouettes in 2019), Muamba won the 2019 CFL Most Outstanding Canadian award, and was a finalist for the CFL's Top Canadian Award in 2013. That year he lost to Calgary Stampeders running back Jon Cornish of New Westminster, British Columbia.
In 2019, Muamba had 93 defensive tackles, two forced fumbles, and one sack with the Alouettes. In 108 CFL games, he has 468 defensive tackles, 75 special teams tackles, 14 forced fumbles, 12 sacks,  five interceptions, and one touchdown.
Muamba also has National Football League experience. He had six combined tackles (four solo tackles and two assisted tackles) in 13 games with the Indianapolis Colts in 2014.