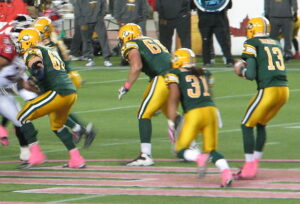 According to TSN on Sunday,  former Edmonton Football Club fullback Calvin McCarty of Burnaby, British Columbia has retired from the Canadian Football League on Sunday at age 36. McCarty was one of two notable offensive players who retired this past week. On Wednesday, running back Tyrell Sutton of Akron, Ohio retired from the Montreal Alouettes at age 34.
McCarty played 13 seasons with Edmonton from 2007 to 2019. In 203 games, McCarty had 263 catches for 2005 yards and 12 touchdowns. He also had 337 carries for 1615 yards and 18 touchdowns.
McCarty's best season came in 2008, when he had career-highs in catches (70), receiving yards (583), and rushing yards (490). McCarty was initially Edmonton's fourth-round draft pick, 27th overall in the 2007 CFL Draft out of Western Washington University. In 2015, McCarty won a Grey Cup championship.
Sutton played 77 Canadian Football League games with the Montreal Alouettes, British Columbia Lions, and Hamilton Tiger-Cats from 2013 to 2019. He had 733 carries for 4044 yards and 17 touchdowns, along with 189 catches for 1665 yards and four touchdowns.
Sutton's best season came in 2015 with the Alouettes, when he had career-highs in rushing yards (1059), catches (56), and receiving yards (334). That season Sutton was also a CFL All-Star. He was with the Alouettes from 2013 to 2018 before being traded to the Lions on September 25, 2018. Sutton finished the 2018 season with the Lions before joining the Tiger-Cats in 2019. He rejoined the Alouettes in 2020 but did not play a game last season because of coronavirus.