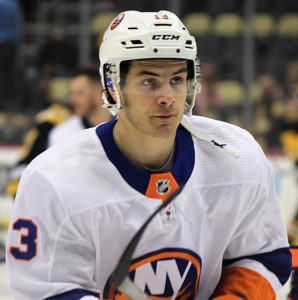 Mathew Barzal of Coquitlam, British Columbia was named the National Hockey League first star of the week on Monday for the week from March 29 to April 4. In only three games, Barzal had three goals and four assists for seven points.
In addition to the seven points, Barzal was a +6 with one power-play point, 11 shots on goal, two blocked shots, and seven faceoff wins. If there was one area where Barzal might have needed to have a little bit of improvement was in the faceoff circle, as he only won 31.8% of his draws.
Barzal's biggest game of the week came on April 1, in an 8-4 Islanders win over the Washington Capitals. In the contest, Barzal had a big night as he collected three goals and two assists for five points, and was a +5 with eight shots on goal. Barzal also had one assist in a 2-1 Islanders loss to the Pittsburgh Penguins on March 29, and another helper in a 3-2 Islanders win over the Philadelphia Flyers on April 3.
On the season, Barzal now has 13 goals and 21 assists, and 34 points. He is a +17 with 36 penalty minutes, six power-play points, one game-winning goal, 98 shots on goal, 124 faceoff wins, nine blocked shots, 13 hits, 20 takeaways, and 25 giveaways.
The Islanders are in second place in the East Division with 52 points. They are two points back of the first-place Washington Capitals, with a record of 24 wins, 10 regulation losses, and four losses in extra time.