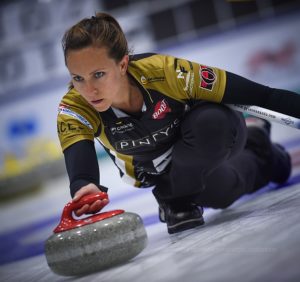 Brendan Bottcher of Sherwood Park, Alberta and Rachel Homan of Ottawa, Ontario won the 2023 Champions Cup of Curling from The Co-operators Centre in Regina, Saskatchewan on Sunday. For Bottcher it was his fifth grand slam title, and for Homan, it was her 13th title. Bottcher qualified for the Champions Cup by winning the 2023 Co-op Canadian Open in Camrose and Homan qualified for the Champions Cup by winning the 2022 HearingLife Tour Challenge in Grande Prairie, Alberta.
In the men's event, Bottcher went undefeated with a perfect record of seven wins and zero losses. In Pool B action, he beat Kelly Knapp of Regina, Saskatchewan 7-2, Andrew Stopera of the United States 8-4, Niklas Edin of Sweden 7-4, Bruce Mouat of Scotland 5-4 and John Shuster of the United States 5-4. In the semifinals, Bottcher beat Edin 7-2 before defeating Canadian Olympic gold medalist Brad Gushue of St. John's, Newfoundland 5-3 in the final. Gushue won gold in men's curling at the 2006 Olympic Winter Games in Turin.
In the women's event, Homan had a record of three wins and two losses and was second behind Tabitha Peterson of the United States in Pool B. Homan's pool wins came over Peterson by a score of 7-4, Marianne Rorvik of Norway 6-3, and Silvana Tirinzoni of Switzerland by a score of 7-5. Homan then beat Sara McManus of Sweden 7-6 in the quarterfinals, Peterson 9-2 in the semifinals, and Kerri Einarson of Gimli, Manitoba 6-5 in the final. Homan overcame a 10-0 loss to fellow Canadian Jennifer Jones of Winnipeg, Manitoba in pool play, and was trailing Einarson 4-0 in the final before the extra end win.