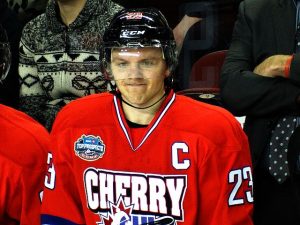 Sam Reinhart of North Vancouver, British Columbia scored his first National Hockey League Stanley Cup Playoff overtime winner on Sunday. He scored from Anton Lundell of Espoo, Finland and Aaron Ekblad of Windsor, Ontario at 3:02 of the first overtime period in a 3-2 Florida Panthers win over the Toronto Maple Leafs in game three of the Eastern Conference semifinal at FLA Live Arena in Sunrise, Florida. With the win, the Panthers take a three games to none series lead in the best out of seven series.
Reinhart was one of three Canadians to score for the Panthers in the game. The others were Anthony Duclair of Pointe-Claire, Quebec, and Carter Verhaeghe of Toronto, Ontario. Aaron Ekblad of Windsor, Ontario led the Panthers in points with two. In addition to his assist on the game-winning goal by Reinhart, he helped set up Duclair too on a power-play marker which at the time tied the game at one goal apiece at 2:36 of the second period.
In the 2023 Stanley Cup Playoffs so far, Reinhart has five goals and two assists for seven points in 10 games. He is a +3 with one power play goal, one game-winning goal, 20 shots on goal, 53 faceoff wins, 30 hits, 11 blocked shots, nine takeaways and five giveaways. The Panthers can close out the series with a win on Wednesday.