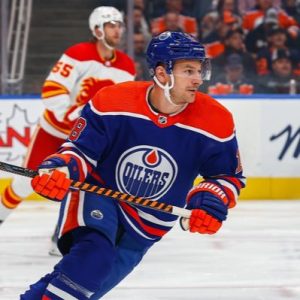 Edmonton Oilers left winger Zach Hyman of Toronto, Ontario notched his second career National Hockey League hat trick on Saturday. He accomplished the feat by scoring thrice in a 4-1 win over the Seattle Kraken at the Climate Pledge Arena in Seattle, Washington.
Hyman scored the first three goals of the game. He opened the scoring at 9:56 of the first period from Evander Kane of Vancouver, British Columbia. Hyman then scored at 14:09 of the first period from Evan Bouchard of Oakville, Ontario and Ryan Nugent-Hopkins of Burnaby, British Columbia on an all-Canadian goal which was the game-winning goal. Then at 18:40 of the first period, Hyman scored an unassisted marker.
In 2023-24, Hyman now has seven goals and six assists for 13 points in 13 games. He is a -2 with six penalty minutes, three-power play points, two game-winning goals, nine blocked shots, 17 hits, four takeaways, and four giveaways. Hyman's other game-winning goal this season came on October 17 in a 6-1 Oilers win over the Nashville Predators. Hyman scored from Bouchard and Leon Draisaitl. Hyman's other NHL hat trick came on December 13, 2022 in a 6-3 Oilers win over the Predators. The Oilers snapped a four game losing streak on Saturday. They next play the New York Islanders on Monday.