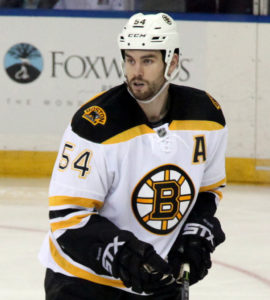 According to SB Nation on Sunday, National Hockey League defenseman Adam McQuaid of Charlottetown, Prince Edward Island, retired at the age of 34. McQuaid played 10 seasons in the NHL with the Boston Bruins, New York Rangers, and Columbus Blue Jackets. In 512 games, he had 16 goals and 57 assists for 73 points, and was a +62 with 694 penalty minutes, four game-winning goals, three shorthanded points, 403 shots on goal, 834 blocked shots, 99 hits, 6 takeaways, and 161 giveaways.
McQuaid did not play in the NHL in 2019-20. During the 2018-19 season, he shared his time with the Rangers and Blue Jackets, and had three goals and four assists for seven points in 50 games.
There is no doubt that McQuaid will forever be remembered as a key part of the Bruins blueline from 2009 to 2018. His best season fittingly was the year Boston won the Stanley Cup in seven games over the Vancouver Canucks. That year, in only his second NHL season, McQuaid had career highs in assists (12), points (15), plus/minus (+30).
McQuaid's plus/minus total was fifth in the NHL that year. McQuaid's teammate Zdeno Chara had the highest plus/minus at +33. He was followed by David Backes of the St. Louis Blues, Toni Lydman of the Anaheim Ducks and Grimsby, Ontario native Kevin Bieksa of the Vancouver Canucks who were all at +32.