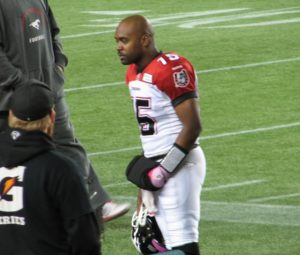 Canadian Football League quarterback Kevin Glenn retired on his 40th birthday on Wednesday, one day before the 2019 Canadian Football League season is set to begin. Throughout his career, Glenn had been property of every single CFL team and played for the Saskatchewan Roughriders, Winnipeg Blue Bombers, Hamilton Tiger-Cats, Calgary Stampeders, British Columbia Lions and Montreal Alouettes.
In 18 seasons, Glenn completed 4068 passes in 6434 attempts for 52867 yards, 294 touchdowns and 207 interceptions. He is sixth all-time in CFL passing yards, fifth all-time in pass completions and seventh all-time in passing touchdowns. Anthony Calvillo, who played primarily will the Alouettes, leads all three of those notable CFL statistical categories.
Glenn's most notable season came in 2007 when he was a finalist for the CFL's most outstanding player award (lost to Kerry Joseph of the Saskatchewan Roughriders). That season he completed 388 passes in 621 attempts for 5117 yards, 25 touchdowns and 13 interceptions. Glenn helped the Blue Bombers get to the Grey Cup, but broke his arm in the Eastern Final in a 19-9 win over the Toronto Argonauts.
Despite playing 18 seasons, Glenn did not once win a Grey Cup title. Last season, Glenn was the backup quarterback for Mike Reilly with the Edmonton Eskimos. In 2019, the Eskimos have decided to go with Trevor Harris as their starting quarterback and Jeremiah Briscoe and Logan Kilgore as their backups. Kilgore has CFL experience with the Argonauts in 2016.
The 2019 Canadian Football League regular season begins on Thursday. The Saskatchewan Roughriders play in Hamilton to take on the Tiger-Cats.