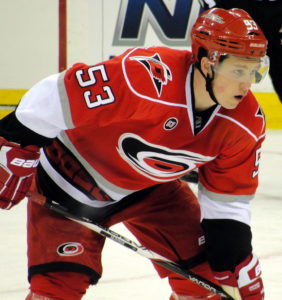 Buffalo Sabres left winger Jeff Skinner of Markham, Ontario is off to a fantastic start to the 2018-19 National Hockey League regular season. After the first 10 games, Skinner has 10 points as he has five goals and five assists and is a very respectable +8. Once again, Skinner has been extremely disciplined. He has only taken one minor penalty for two penalty minutes.
Skinner was traded from the Carolina Hurricanes to the Buffalo Sabres on August 2, 2018 for prospect Cliff Pu of North York, Ontario, a second round pick in the 2019 NHL Entry Draft and a third and sixth round draft pick in the 2020 NHL Entry Draft. He had spent the last eight seasons with the Hurricanes and had 379 points in 579 regular season games. In his rookie season, Skinner made a huge impact in the NHL as he won the Calder Trophy in 2011.
While with the Sabres, Skinner has had a huge impact in two regular season games. On October 20, Skinner notched a hat trick in an impressive 5-1 road win over the Los Angeles Kings, and then on Thursday, had three assists in a 4-3 win over the Montreal Canadiens.
The Sabres meanwhile have won three straight games and have a record of six wins and four losses for 12 points to start the season. They are trying to make the playoffs for the first time since 2011.