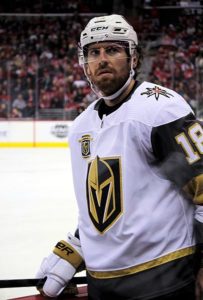 The St. Louis Blues have signed James Neal of Whitby, Ontario to a one-year deal on Saturday. The terms of the deal are for $750,000 according to TSN. 
The Blues will be the seventh team Neal has played for in his National Hockey League career. He has previously played for the Dallas Stars, Pittsburgh Penguins, Nashville Predators, Vegas Golden Knights, Calgary Flames and Edmonton Oilers.
In 2019-20 with the Oilers, Neal had five goals and five assists for 10 points in 29 games. He was a -2 with 11 penalty minutes, three power-play points, 51 shots on goal, two faceoff wins, six blocked shots, 26 hits, eight takeaways, and 11 giveaways.
Neal's finest season came with the Penguins in 2011-12. That year he had career-highs in goals (40), assists (41), points (81), power play goals (18), power play points (30), and shots on goal (329). Neal's 18 power play goals led the NHL and he had two more power play goals than Philadelphia Flyers left winger Scott Hartnell of Regina, Saskatchewan, who was in second with 16 power play goals.
Neal was also one of two Canadians in 2011-12 named to the NHL First All-Star Team (the other was Canadian Olympic gold medalist Shea Weber of the Nashville Predators), and one of two Penguins players to be honoured in 2011-12 (the other was Evgeni Malkin). Weber of Sicamous, British Columbia, won a gold medal for Canada at the 2010 Olympic Winter Games in Vancouver, and the 2014 Olympic Winter Games in Sochi.