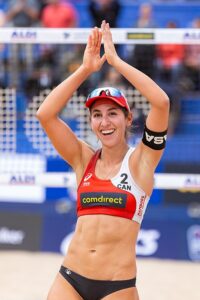 Melissa Humana-Paredes of Toronto, Ontario and Sarah Pavan of Kitchener, Ontario are in the 2021 Women's Beach Volleyball World Tour Final gold medal game from Cagliari, Italy on Sunday. In the semifinals on Saturday, Humana-Paredes and Pavan defeated the reigning Olympic gold medalists, April Ross and Alexandra Klineman of the United States, 21-15, 21-12.
The Canadian team showed strong resilience in the match as Humana-Paredes needed to take a medical timeout early in the first set with a shoulder injury. However, the injury did not seem to impact her too much as Canada won in straight sets. It will be interesting to see how much of a factor Humana-Paredes's shoulder will be when Canada faces the German team of Karla Borger and Julia Sude on Sunday. In the other women's semifinal, Borger and Sude defeated the Russian duo of Nadezda Makroguzova and Svetlana Kholomina 21-13, 20-22, 15-11.
This was the first loss of the tournament for Makroguzova and Kholomina, and it came at an inopportune time. They will now face Ross and Klineman for bronze.
The men's final on Sunday will be Anders Mol and Christian Sorum of Norway versus Ondrej Perusic and David Schweiner of the Czech Republic. The fact that Humana-Paredes and Pavan are guaranteed a second place finish in Cagliari, will give them confidence as they prepare for the 2024 Olympic Games in Paris.