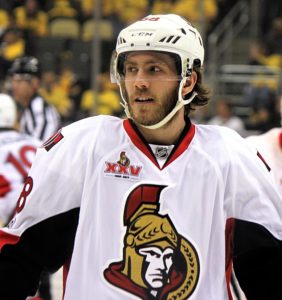 According to Rogers Sportsnet on Monday, Mike Hoffman of Kitchener, Ontario, signed a one-year contract worth $4 million with the St. Louis Blues from the Florida Panthers. The signing comes on the same day that two-time National Hockey League all-star and Canadian Olympic gold medalist Jay Bouwmeester of Edmonton, Alberta announced his retirement at age of 37. Ironically, Bouwmeester also played for the Blues and Panthers.
The Blues become Hoffman's third National Hockey League. In addition to the Blues and Panthers, he has played for the Ottawa Senators.
In 2019-20, Hoffman played 69 games with the Panthers. He had 29 goals and 30 assists for 59 points. Hoffman was also a -5 with 28 penalty minutes, 21 power-play points, three game-winning goals, 214 shots on goal, seven faceoff wins, 22 blocked shots, 33 hits, 31 takeaways, and 52 giveaways.
While with the Panthers this past season, Hoffman, who plays center and left wing, had his game-winning goals in a 4-3 win over the eventual Stanley Cup champion Tampa Bay Lightning on October 5, 2019, in a 5-3 win over the Toronto Maple Leafs on February 3, 2020, and in a 2-1 win over the Arizona Coyotes on February 25, 2020. In the one-goal win over the Lightning, Hoffman also registered his second career NHL hat trick. In the 2020 Stanley Cup Playoff qualifier in the Toronto bubble, Hoffman had five points in four games for the Panthers against the New York Islanders.