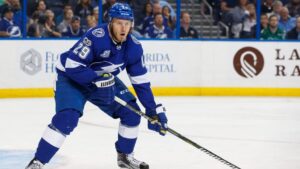 The Edmonton Oilers have signed defenseman Slater Koekoek of North Dundas, Ontario to a one-year deal worth $850,000 from the Chicago Blackhawks on Saturday, according to The Canadian Press. The Oilers become the third team Koekoek has played for. In addition to the Blackhawks, he has played for the Tampa Bay Lightning.
Pronounced "coo-coo," Koekoek had one goal and nine assists for 10 points in 42 games in 2019-20. He was a +3, with 42 penalty minutes, 47 shots on goal, 58 blocked shots, 64 hits, nine takeaways, and 27 giveaways.
Koekoek's lone goal and game-winning goal during the 2019-20 National Hockey League regular season came on February 27, in a 5-2 Chicago win over his former team, the Tampa Bay Lightning. Koekoek's game-winner was one of five consecutive goals for the Blackhawks in the third period on this night, and the second consecutive unassisted marker. Just four minutes and 54 seconds before Koekoek scored the game-winning goal, Dominik Kubalik had scored an unassisted goal to tie the game at two goals apiece.
The Blackhawks' win over the Lightning would be the first of four consecutive wins for the Blackhawks, and a major reason why they reached the Stanley Cup Playoff qualifier against the Edmonton Oilers. There, the Blackhawks beat the Oilers three games to one. In the five-game series, Koekoek had one goal and two assists for three points.