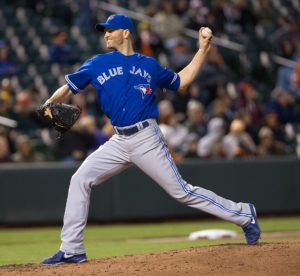 The lone all-star for the Toronto Blue Jays in the 2018 Major League Baseball All-Star Game has been traded to the New York Yankees. On Thursday. J.A. Happ was traded from the Blue Jays to the New York Yankees for infielder Brandon Drury and outfielder Billy McKinney. 
Happ has been the most consistent pitcher in the Blue Jays starting rotation this season. He has a record of 10 wins, six losses, an earned run average of 4.18, 130 strikeouts compared to only 35 walks. The Yankees will also like the fact that Happ has 15 more innings pitched this season than hits allowed. He has 114 innings pitched and has only given up 99 hits.
Do not be surprised if the Blue Jays make a couple of more trades before the trade deadline on July 31. The Atlanta Braves meanwhile are interested in Blue Jays starting pitcher Marcus Stroman, who has had a very poor season to date. In 13 games, Stroman has a record of three wins and seven losses with a terrible earned run average of 5.42 and a bad WHIP (walks and hits per innings pitched) of 1.45.
The Blue Jays are currently in fourth place in the American League East with a record of 46 wins and 55 losses. They are 23.5 games back of the division leading Boston Red Sox and 14.5 games back of the Seattle Mariners for the second wildcard spot.