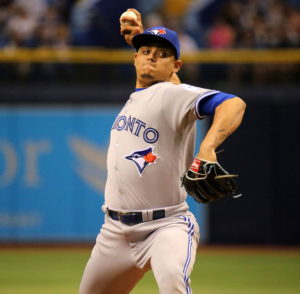 It appears more and more that the Toronto Blue Jays  will be sellers at the Major League Baseball trade deadline and not buyers. They currently have a record of 44 wins and 52 losses and are ten games back of the Boston Red Sox for first place in the American League East.
Until recently, the Blue Jays were in contention for the second wildcard spot. However, they are currently six and a half games back of the New York Yankees and Tampa Bay Rays in the American League wildcard hunt.
This team does not look like a team that can contend in 2017. Their for and against ratio is -82, the worst in the American League, and on Friday, Toronto was hammered 13-3 by the Cleveland Indians.
You might think it is ridiculous that the Blue Jays trade all-star closer Roberto Osuna. He is having a great season (2-0, 24 saves, 2.06 earned run average, 53 K in 39 IP, and a WHIP of 0.74), and solidifies the Jays bullpen significantly. However, one must realize Osuna's stock at the moment is as high as it will ever be, and it might just be the right time that Blue Jays general manager Ross Atkins pulls the trigger and acquires three or four top prospects from another club.
There is no doubt that closers have value in baseball, but they have a little less value than everyday position players and starting pitchers. If Atkins can pick up two possible starters down the road, the timing might be now to see how much they can get for Osuna.