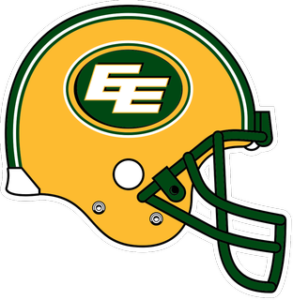 The Canadian Football League season is almost a quarter of the season through and there is one team that is currently undefeated with a record of four wins and zero losses–the Edmonton Eskimos. However one could argue that the Eskimos are extremely lucky to have gone through the season so far without a loss.
The Eskimos have trailed in every game they have played this season. They have also only outscored their opponents by a total of 12 points–107-95.
Injuries have also been a major concern for the Eskimos, but they deserve significant credit for having strong depth within the organization. For example running back John White is out for the season with a torn knee ligament, but Travon Van has filled in admirably. This past week, slotback and three-time CFL all-star Adarius Bowman was placed on the six game injury list, and was replaced by Bryant Mitchell, who caught five passes for 76 yards and a touchdown in a come from behind 31-28 win over the Hamilton Tiger-Cats on Thursday.
On defense, the Eskimos are without former CFL most outstanding defensive player award winner J.C. Sherritt for the season after he ruptured his Achilles in the Eskimos' season opening win over the Lions and linebacker Cory Greenwood of Kingston, Ontario, who tore his anterior cruciate ligament during training camp. Greenwood was to be a key acquisition for the Eskimos, as they picked him up via free agency from the Toronto Argonauts, but like Sherritt, is gone for the season too.
Even though the Eskimos are undefeated, they don't have much margin for error. That is because the Eskimos have got the Lions breathing down their necks at 3-1, the Calgary Stampeders can pull within a point of the Eskimos with a home win over the Saskatchewan Roughriders on Saturday, and one could argue that the Winnipeg Blue Bombers are the best 2-2 team in the CFL.