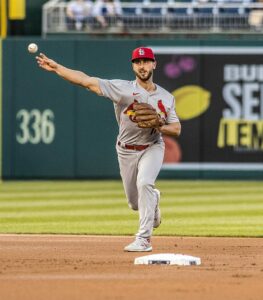 The Toronto Blue Jays acquired shortstop Paul DeJong of Orlando, Florida on Tuesday in a Major League Baseball transaction according to Nick Ashbourne of Yahoo! Sports. In return, the Blue Jays traded relief pitcher Matt Svanson of Lake Zurich, Illinois to the St. Louis Cardinals. Svanson was one of the top pitching prospects in the Blue Jays organization.
In 81 games, 279 at bats and 306 plate appearances, DeJong is batting .233 with 13 home runs and 32 runs batted in. He has scored 38 runs and had 65 hits, 11 doubles, 21 walks, four stolen bases, 115 total bases, one sacrifice fly, an on base percentage of .297, and a slugging percentage of .412. DeJong's sacrifice fly this season came in a 4-2 Cardinals win over the Houston Astros on June 27.
DeJong has spent his entire Major League career with the Cardinals. As a rookie, he batted .285 with 25 home runs and 65 runs batted in, and was the runner up for the National League Rookie of the Year behind Cody Bellinger of the Los Angeles Dodgers. Then in 2019, DeJong was named a National League All-Star. He batted .233 with 30 home runs and 78 runs batted in.
Toronto was in need of a shortstop because of the recent knee injury to Bo Bichette. The Blue Jays are currently at 59 wins and 49 losses, and have the third wildcard spot in the American League. They lead the Boston Red Sox by a game and a half.