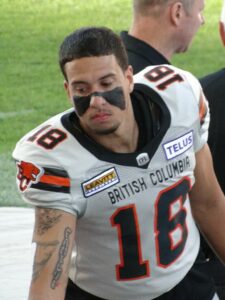 Week eight is now complete in the Canadian Football League, and two Canadians on a winning team found the end zone. They were British Columbia Lions wide receiver Justin McInnis of Montreal, Quebec and Toronto Argonauts wide receiver Dejon Brissett of Mississauga, Ontario.
McInnis had two catches for 35 yards and one touchdown in a 27-0 Lions shutout win over the Edmonton Elks on Saturday. His major score came with five minutes and 11 seconds left in the second quarter. It came on a 23-yard touchdown catch from Lions quarterback Dane Evans. In six games this season, McInnis now has 17 catches for 297 yards and two touchdowns. With the win, the Lions improved to a record of six wins and one loss, and are in first place in the West Division. Edmonton meanwhile has now lost 21 consecutive home games, and have not won at home since 2019.
Brissett had a two-yard touchdown catch from Argonauts quarterback Chad Kelly in a 31-13 Toronto Argonauts win over the Saskatchewan Roughriders in Halifax on Saturday. The major score came with four minutes and 45 seconds left in the first half, and put the Argonauts up 19-0 at the time. Brissett had two catches for five yards and one touchdown in the game. On the season he has 12 catches for 201 yards and one touchdown. The Argonauts improved to a record of six wins and zero losses, and are the only team in the Canadian Football League this season undefeated.