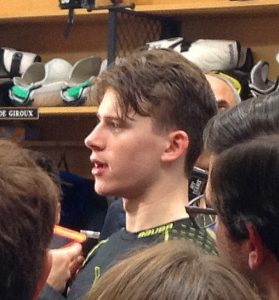 Carter Hart of Edmonton, Alberta recorded his second career National Hockey League regular season shutout on Sunday. Hart made 28 saves as the Philadelphia Flyers defeated the Buffalo Sabres 3-0.
Hart made seven saves in the first period, 12 saves in the second period, and nine saves in the third period. Four Sabres led the team with three shots on goal each. They were Taylor Hall of Calgary, Alberta, Brandon Montour of Brantford, Ontario, Sam Reinhart of Vancouver, British Columbia, and Jack Eichel.
Hart now has a record of six wins, three regulation losses, and three losses in extra time. He also has a goals against average of 3.35 and a save percentage of .899. Hart's first regular season shutout came on October 9, 2019, in a 4-0 Philadelphia win over the New Jersey Devils.
Offensively for the Flyers on Sunday, the Flyers got goals from Sean Couturier of Bathurst, New Brunswick, James Van Riemsdyk, and Michael Raffl. Van Riemsdyk and Joel Farabee led the Flyers with two points each. Van Riemsdyk had one goal and one assist, while Farabee had two assists.
This was the second straight day that a Canadian goalie on the Flyers shutout the Sabres 3-0. On Saturday, it was Brian Elliott of Newmarket, Ontario.
With the win on Sunday, the Flyers are in fourth place in the East Division with a record of 11 wins, four regulation losses, and three losses in extra time for 25 points. They are two points up on the Philadelphia Flyers for a playoff spot.