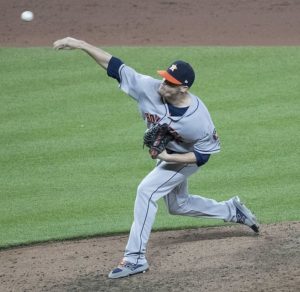 The Toronto Blue Jays acquired closer Ken Giles from the Houston Astros on Monday. In addition to Giles, the Blue Jays received right handed pitcher David Paulino and prospect Hector Perez, while the Blue Jays traded closer Roberto Osuna.
Giles has pitched five seasons in Major League Baseball–two strong seasons with the Philadelphia Phillies, but only one strong season out of three with the Astros. This season with Houston, Giles pitched 34 games, had a record of zero wins and two losses,12 saves, and an earned run average of 4.99.
Even though Giles had excellent control with Houston (31 strikeouts and three walks in 30.6666 innings), he gave up 36 hits and had a high WHIP (walks and hits per innings pitched) of 1.27.
The Blue Jays will be hoping for the Giles who posted great regular season statistics in Philadelphia and in Houston in 2017. In two seasons with the Phillies in 2014 and 2015, Giles had a record of nine wins, four losses, 16 saves, 151 strikeouts, 36 walks and an earned run average of 1.56 in 113 games. Then in Houston in 2017, Giles had a record of one win, three losses in 63 games, and an earned run average of 2.30. Giles won a World Series title last year in Houston, but had a horrible postseason earned run average of 11.74.
The Blue Jays are giving up the best reliever in their organization to an Astros team that needs bullpen help. Osuna, who is currently serving a 75 game suspension for violating Major League Baseball's domestic violence policy, has pitched in 15 games this season, has a record of zero wins and zero losses, an earned run average of 2.93, 13 strikeouts, one walk, and a WHIP of 1.11. The trade of Osuna clearly shows the Blue Jays are starting their rebuilding process. They also have a lot to do in order to contend with the Boston Red Sox and New York Yankees in the American League East.