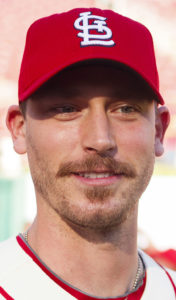 The Toronto Blue Jays traded relief pitcher John Axford of Simcoe, Ontario to the Los Angeles Dodgers on Tuesday. In return, the Blue Jays received prospect pitcher Corey Copping.
In 45 games with the Blue Jays this season, Axford had a record of four wins and one loss. He had an earned run average of 4.41, WHIP (walks and hits per innings pitched) of 1.26, 50 strikeouts and 20 walks in 51 innings. On July 28, the Blue Jays gave Axford his first career start of his Major League Baseball career. In using the new Tampa Bay Rays approach by starting relievers and giving them a couple of innings of work, the Blue Jays used Axford for three innings. He did not give up an earned run over 38 pitches and had three strikeouts and zero walks.
The Dodgers will be the eighth Major League Baseball team Axford has played for. In addition to the Blue Jays, Axford has played for the Milwaukee Brewers, St. Louis Cardinals, Cleveland Indians, Pittsburgh Pirates, Colorado Rockies and Oakland Athletics. Axford's finest season came in 2011 with the Brewers when he led the National League with 46 saves.
The Blue Jays made another trade on Tuesday. They shipped relief pitcher Aaron Loup to the Philadelphia Phillies for prospect reliever Jacob Waguespack. In 50 games with the Blue Jays this season, Loup has a record of zero wins, zero losses, an earned run average of 4.54, a WHIP of 1.60, 44 hits in 35.666 innings, 42 strikeouts and 13 walks.