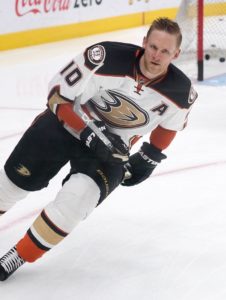 The Chicago Blackhawks continue to fill their roster with veterans. Three days after acquiring Taylor Hall of Calgary, Alberta and Nick Foligno from the Boston Bruins, the Blackhawks made two separate trades acquiring Canadians on Thursday. First they acquired centre Josh Bailey of Bowmanville, Ontario from the New York Islanders, and then Canadian Olympic gold medalist Corey Perry of Peterborough, Ontario from the Tampa Bay Lightning.
Bailey went to Chicago from the Islanders with the second round pick in the 2026 National Hockey League Entry Draft for future considerations. The Blackhawks are the second NHL franchise he has played for following 15 seasons with the Islanders. Bailey had played 1057 games on the Island since 2008, and represented the Islanders at the 2018 NHL All-Star Game.
In 2022-23, Bailey had eight goals and 17 assists for 25 points in 64 games with the Islanders. He was a +3 with two penalty minutes, two game-winning goals, three-power play points, 72 shots on goal, 40 faceoff wins, 31 blocked shots, 11 hits, 21 takeaways, and 47 giveaways. Bailey's game-winning goals this past season came in a 6-2 Islanders win over the Carolina Hurricanes on October 28, and in a 5-2 Islanders win over the St. Louis Blues on November 3.
Perry went to Chicago from the Islanders for a seventh round pick in the 2024 NHL Entry Draft. The Blackhawks are the fifth NHL team he has played for following the Anaheim Ducks, Dallas Stars, Montreal Canadiens and Tampa Bay Lightning. In 81 games this past season, Perry had 12 goals and 13 assists for 25 points in 81 games with the Lightning. He was a -28 with 95 penalty minutes, 12 power-play points, three game-winning goals, 25 blocked shots, 48 hits, 30 takeaways and 26 giveaways.
One could argue that Perry has put together a NHL Hall of Fame career. He won a Stanley Cup with the Ducks in 2007, and had a breakout season with Anaheim in 2010-11. That year Perry led the NHL in goals (50), even strength goals (32), and game-winning goals (11). He won the Hart Trophy and Rocket Richard Trophy. Perry also represented the Ducks at four NHL All-Star Games in 2008, 2011, 2012 and 2016, and won a gold medal for Canada at the 2010 Olympic Winter Games in Vancouver and the 2014 Olympic Winter Games in Sochi.