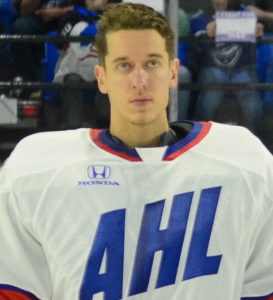 There is no doubt that St. Louis Blues rookie goaltender Jordan Binnington of Richmond Hill, Ontario could be a major reason why the Blues might make the 2019 Stanley Cup playoffs. On Thursday, Binnington continued his marvelous goaltending with a perfect performance against the Arizona Coyotes.
Binnington made 21 saves for his third shutout of the season as the Blues beat the Arizona Coyotes 4-0. Binnington made six saves each in the first and second period and then nine saves in the third period. Meanwhile, Canadians contributed to the Blues offensively. Joel Edmundson of Brandon, Manitoba scored the game winning goal at 3:33 from Jaden Schwartz of Melfort, Saskatchewan and Winnipeg native Alex Steen. Edmundson also added an assist on a first period goal by Vladimir Tarasenko. Brayden Schenn of Saskatoon, Saskatchewan and Robert Thomas of Aurora, Ontario recorded assists on a second period goal by Tarasenko and Robert Bortuzzo of Thunder Bay, Ontario scored from Vince Dunn of Lindsay, Ontario and Oskar Sundqvist in the third period.
Binnington now improves to 11-1-1 on the season with a goals against average of 1.69 and a save percentage of .931. Binnington's other two shutouts came on January 7 when he shutout the Philadelphia Flyers 3-0 and on February 7 when he shutout the Tampa Bay Lightning 1-0.
The Blues meanwhile are red hot. They have won eight straight games and have moved into third place in the Central Division with 63 points.