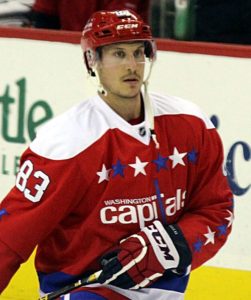 Jay Beagle of Calgary, Alberta was one of two Washington Capitals to record a multi-point game on Saturday in game three of the 2018 Stanley Cup Finals. Beagle had two assists as the Capitals beat the Vegas Golden Knights 3-1 at the Capital One Arena in Arlington, Virginia to take a 2-1 lead in the best out of seven series.
Beagle registered his first point of the game on the game winning goal by Evgeny Kuznetsov at 12:50 of the second period. The goal by Kuznetsov put the Capitals up 2-0 at the time, with T.J. Oshie picking up the other assist.
Beagle registered his second point of the game with the lone assist on an insurance goal by Devante Smith-Pelly of Scarborough, Ontario. The goal by the Capitals' Canadian checking line came with 6:07 left in the third period and put the Capitals up by two after Vegas narrowed the lead to one early in the third period on a goal by Tomas Nosek. Capitals captain Alexander Ovechkin scored the other goal for Washington,
It was another strong performance by Capitals goaltender Braden Holtby of Lloydminster, Saskatchewan, Holtby made 21 saves on 22 shots to increase his win total in the 2018 Stanley Cup playoffs to 14. Game four will take place in Washington on Monday before the series shifts to Las Vegas for the latter part of the week.