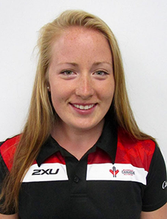 Caileigh Filmer of Victoria, British Columbia and Hillary Janssens of Cloverdale, British Columbia won a World Cup women's pairs rowing final in Belgrade, Serbia on Sunday. It was the first World Cup medal for Filmer and second for Janssens as she finished third in the women's fours last year at a World Cup in Lucerne, Switzerland.
Filmer and Janssens posted a first place time of 6:58.88. Spain's Anna Boada Peiro and Aina Cid won the silver medal with a second place time of 7:04.23. Elsbeth Beeres and Laila Youssifou of the Netherlands won the bronze medal with a time of 7:04.4.
Filmer and Janssens reached the World Cup podium by a very comfortable 6.6 seconds. Anastasia Merlott Chitty and Rebecca Girling of Great Britain finished in fourth place with a time of 7:05.48.
The immediate success of Filmer and Janssens is significant. Filmer was part of the Canadian women's eights rowing team that finished a disappointing fifth at the 2016 Olympic Games in Rio de Janeiro, while Janssens was part of the Canadian women's eights team that won silver at the 2017 World Rowing Championships in Sarasota, Florida.
The success for Filmer and Janssens was just not in the final in Belgrade. They had the fastest time in their preliminary heat and semifinal as well. Canadian sports fans now have two rowers to keep an eye on leading up to the 2020 Olympic Games in Tokyo.