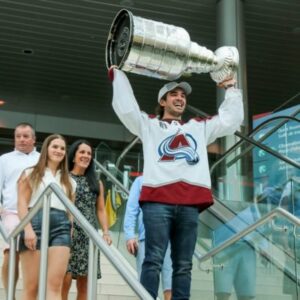 According to nhl.com on Tuesday, the Colorado Avalanche traded center Alex Newhook of St. John's, Newfoundland to the Montreal Canadiens for prospect defenseman Gianni Fairbrother of Vancouver, British Columbia, and a first and second round pick in the 2023 National Hockey League Entry Draft. The Avalanche will receive the 31st overall pick from the first round and the 37th overall pick from the second round. The Canadiens had an extra first round pick when they traded defenseman Ben Chiarot of Hamilton. Ontario to the Florida Panthers on March 16. The Canadiens still have the fifth overall pick in the 2023 NHL Entry Draft.
For Newhook, the Canadiens will be his second National Hockey League team as he spent the last three seasons with the Avalanche. In 2022-23, Newhook had 14 goals and 16 assists for 30 points in 82 games with Colorado. He also had a zero plus/minus rating, 22 penalty minutes, two power-play points, three game-winning goals, 116 shots on goal, 208 faceoff wins, 26 blocked shots, 60 hits, 26 takeaways and 20 giveaways.
Newhook's game-winning goals this past season came in a 3-1 Avalanche win over the Nashville Predators on December 17, in a 3-2 Avalanche win over the Washington Capitals on January 24, and in a 4-1 Avalanche win over the Calgary Flames on February 25. He was also part of the Avalanche team that won the 2022 Stanley Cup.