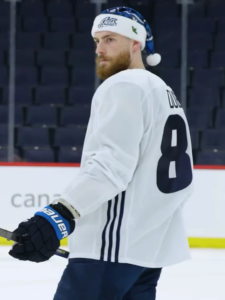 According to nhl.com on Tuesday, the Winnipeg Jets and the Los Angeles Kings were in a blockbuster trade. The Jets traded left winger Pierre-Luc Dubois of Ste-Agathe-Des-Monts, Quebec to the Kings for centres Gabriel Vilardi of Kingston, Ontario, Rasmus Kupari, Alex Iafallo and a second round pick in the 2024 National Hockey League Draft.
Dubois will be joining his third NHL team. He previously played four seasons with the Columbus Blue Jackets from 2017 to 2021, and the last three seasons with the Jets from 2021 to 2023. This was the second time Dubois has been traded. He was initially dealt from the Blue Jackets to the Jets with prospect Daniel Zhilikin for Patrik Laine and Jack Roslovic on January 23, 2021.
In 2022-23, Dubois had 27 goals and 36 assists for 63 points in 73 games. He was a +5 with 77 penalty minutes, 23 power-play points, one game-winning goal, 205 shots on goal, 483 faceoff wins, 47 blocked shots, 71 hits, 40 takeaways, and 47 giveaways. Dubois's game-winning goal came in a 5-1 Jets win over the Dallas Stars. He scored from centre Cole Perfetti of Whitby, Ontario and Jets captain Blake Wheeler at 4:37 of the second period, which put the Jets up 2-1 at the time.
Vilardi has spent the last four seasons with the Kings. In 2022-23, he had 23 goals and 18 assists for 41 points. Vilardi was a +10 with 18 penalty minutes, nine power-play points, six game-winning goals, 122 shots on goal, 52 faceoff wins, 33 blocked shots, 41 hits, 23 takeaways, and 16 giveaways. Kupari had three goals and 12 assists for 15 points in 66 games. Iafallo had 14 goals and 22 assists for 36 points in 59 games.