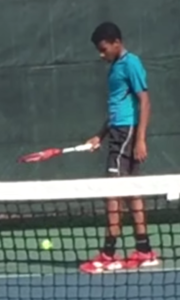 Felix Auger-Aliassime of Montreal, Quebec has reached the quarterfinals for the second time in an ATP Tour event. On Wednesday, Auger-Aliassime beat Christian Garin of Chile 7-5, 6-4 in straight sets and will now face Jaume Munar of Spain in the quarterfinals on Friday.
Auger-Aliassime got revenge on Garin as he lost to the Chilean in the first round of the Argentinian Open 3-6, 7-5, 6-3 last week. The win over Garin was the second time in Rio that Auger-Aliassime beat a higher ranked player than himself. In the first round, Auger-Aliassime made Canadian tennis headlines when he upset the second seed, Fabio Fognini of Italy, 6-2, 6-3 in an extremely dominating performance.
In 2018, Auger-Aliassime reached the quarterfinals of the Chengdu Open in China. En route to the quarters, Auger-Aliassime beat Wu Yibing of China 6-3, 6-7, 6-1 in the first round and then upset 2018 Australian Open semifinalist Hyeon Chung of South Korea 7-6, 5-7, 6-4 in the second round. In the quarterfinals, Auger-Aliassime lost to Bernard Tomic of Australia 6-2, 6-4.
This is the second straight week that a Canadian tennis player has gone deep in an ATP Tour event. Last week, Brayden Schnur of Pickering, Ontario reached the finals of the 2019 New York Open. En route to the final, he beat Jack Mingjie Lin of Markham, Ontario in an all-Canadian first round matchup 6-1, 6-3, before upsetting third seed American Steve Johnson 6-4, 4-6, 7-6 in the second round, Paolo Lorenzi of Italy 6-7, 7-6, 7-6 in the quarterfinals and then the sixth-ranked American and 2017 Wimbledon semifinalist Sam Querrey, 7-6, 4-6, 6-3.